Is Your Teen Anxious, Depressed, And Struggling To Make Friends?
Have they been acting different lately and keeping to themselves more?
As much as you want to help, do you feel like you don't know where to start?

Maybe they're having trouble in school and their grades are slipping. Perhaps they're getting bullied or struggling with peer pressure. Or maybe they're dealing with "frenemies"—their friends aren't loyal and aren't really who they say they are. Your teen might be isolating more, refusing to socialize, or even self-harming. As a result, you're probably thinking of talking to a teen therapist.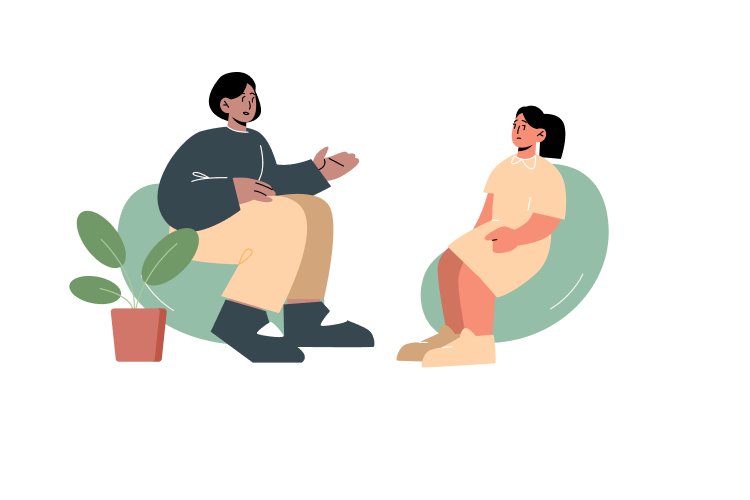 Parenting A Struggling Teen Creates A Lot Of Anxiety And Frustration
It can lead to sleepless nights and contention in your family. As badly as you want to help, you know your teen isn't a child anymore. This creates a conundrum when they're struggling. You probably ask yourself:
You don't have to wrestle with these worries alone. Here at Kind Mind Psychology, we're here to help you learn new skills for connecting with your teen. Additionally, we want to help them increase positive emotions, communicate more effectively, and improve their relationships.
It's Normal For Teens To Struggle With Anxiety, Depression, And Other Mental Health Issues
After all, it's hard for many of them to cope with all the changes in their lives. They're facing so many new pressures for the first time—pressure to fit in, look beautiful, keep up in school, and figure out what they want to do with their lives.
On top of all that, today's teens are bombarded with negative content on social media. All day long, they see influencers promoting unrealistic beauty standards and unhealthy ideas about love and popularity. They have to deal with cyberbullying, negative comments, and toxic comparison culture. Trying to stay sane in this kind of world is hard. Life becomes a game of who can get the most likes, clicks, and followers.
Additionally, many of today's teens are worried about climate change, racial injustice, and school shootings. They're growing up in a turbulent and dangerous world, so it's no wonder they're so stressed out.
Therapy is a place where teens can relax, talk about their fears, and let go of cultural pressures to be something they're not. It gives them a chance to be themselves without any fear of shame or judgment.
Therapy Can Help Teens Improve Their Confidence And Learn New Coping Skills
Most teens don't have the skills to effectively process all the information they're taking in. It's hard for them to talk themselves out of feeling like they're not good enough. That's why counseling is so important for teens. It can help them process difficult emotions and learn new skills for coping with life's stressors.
At Kind Mind Psychology, we want to empower your teen so that they can be confident, relaxed, and more aware of their strengths. Therapy with us isn't just about removing the "bad parts" of life—it's about finding the good parts. Rather than pathologizing, we want to help teens thrive. We'll focus on what they excel at and give them skills to increase positive emotions. This way, they'll have something to look forward to each week.
What To Expect In Sessions
The counseling plan is adjustable depending on your teen's needs. Typically, we'll meet with you and your teen together in the first session to go over confidentiality and goals for therapy. After that, we'll usually start meeting with your teen one-on-one.
Although sessions with your teen are private, we want to keep you in the loop regarding their treatment. We can do occasional check-ins through phone calls, solo meetings, or whatever works best for you. The goal is to cue you in on ways to support your teen's progress. After all, sometimes the skills we give your teen only work if you're there to reinforce those skills. We want you to be their biggest cheerleader in day-to-day life.
Our Approach To Teen Therapy
We draw from a wide range of approaches to help teens, but two of the most important are Cognitive Behavioral Therapy (CBT) and Dialectical Behavioral Therapy (DBT). We use CBT to help teens challenge negative thoughts, improve their executive functioning, and learn new communication skills. And we use DBT to help them regulate painful emotions, increase their distress tolerance, and be more mindful of themselves and their environment.
No matter which approach works best for your teen, we are confident that we can help them build a worthwhile life. Although we want them to reduce their symptoms, the ultimate goal is not just for them to live without pain—it's for them to experience joy and serenity. We want to help them build on their strengths and become the person they've always dreamt of becoming.
You May Have Some Questions About Teen Therapy…
What if my teen won't talk to you?
Our therapists have a lot of experience working with teens who are reluctant to talk. More than anything, we prioritize going at a pace that's right for your teen. They're in charge of their own treatment, so they never have to talk about something they don't want to. Generally, we find that most teens on the shyer side eventually feel very comfortable with us. Once they realize that we're here to empower them, not lecture them, they usually come to enjoy their time here.
Will this negatively affect my relationship with my teen?
No, it won't. One of the main goals of counseling is to enrich your relationship with your teen. We want to help you both solve any emotional disconnection between you and learn to understand each other on a deeper level. Besides, we're not here to criticize your parenting—we're here to help you strengthen it.
Is sending my teen to therapy a sign that I'm not a good parent?
Just the opposite. It shows that you care deeply about your teen and are willing to invest time and money into giving them the best future possible. Besides, teenage depression and anxiety are very common—many of your teen's friends are probably in therapy, too. Every teen, no matter how loving and supportive their parents are, can benefit from talking to a trained professional who is unbiased and can help them learn new coping skills.
Set Your Teen Up For A Successful Future!
Going to counseling at a young age is a great way to prepare for the challenges of adulthood. If you want to give your teen a head start and set them up for success, contact us or call (646) 918 – 1181.